Getting approval from Adsense is quite difficult, but now when you know this simple trick of how to get Adsense approved quickly in 24 hours.
There are many people who are into blogging. You will find many blogs out there making a good amount of money. Blogging today have become the permanent source of income for many people and they are earning way beyond their expectations.
Launching a website before was a hectic thing and it needs a good amount of investment. But today you can easily start a website with low investments.
As we all know, a website is worth if it is generating a good amount of revenue and thus for new bloggers, the best way of earning is Adsense. You can even start making money from adsense on youtube. If you love making videos, you can upload them to youtube and start monetizing it. Here in this post, I have mentioned how one can get Adsense approved quickly within just 24 hrs.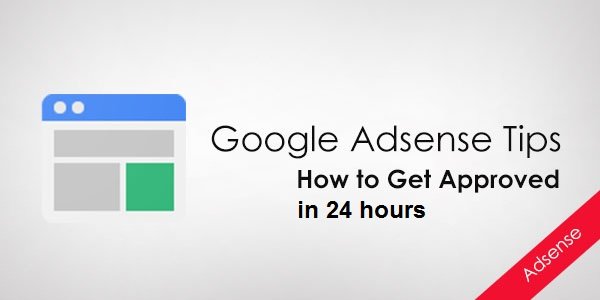 Let me explain something about Adsense
As the name itself says Google Adsense is a program launched by Google and it's very famous among the bloggers. As per the program, the advertisers are able to show advertisements of their products or services on different websites so that there is an increase in sale. For this, they pay money to Google.
On the other hand, bloggers register their website with Adsense and as they get approval from Google, they just have to place the advertisement code on the website and the ads start to appear. Now, as the visitor visits the website and clicks on the advertisement, you get paid for it. You can use adsense on your wesbite or blog, and if you have your own youtube videos, you can use adsense for those too.
Isn't that great?
Challenge you will face
Earning money is not easy and the same thing applies here too. Getting Adsense approval is really difficult as Google is really possessive about the quality and the information you share on your blog. There is a huge guideline that you need to follow before applying for Google Adsense. I know that no one likes to read such bulky things but, Google is really very strict to this. Given below are some basic things that your blog need to follow as per the guidelines
There must be good amount of content on your blog
Your blogs domain must age 6+ months
Customized domains like abc.com, facebook.com have higher chances to get approval
Your blog must not share any adult content
The content you share must be unique
The quality of the content must be readable to the readers and it should have the good amount of info available to it.
Website or blog must have privacy policy, disclaimer, terms of use and contact us pages
Your blog or website must not link to any adult or sexual website.
You should not follow any unethical means in order to get visitors
There is huge list of spamming rules as well
These 10 points are just the teasers; the real movie is out there…
Steps to Get Adsense Approved Quickly in 24 hrs
I hope that you must have tried getting AdSense by going through the Adsense website and many of you have failed. But the steps I am sharing here have 95% chances to get your Adsense approved.
• Preparation before applying
Before applying you must have your own blog with custom domain (for ex:- facebook.com, techmozz.com etc)
It should have 100% unique posts
Post at least 20 posts with each one having 400+ words
Add proper images as well and if you are using someone else images, then give proper credit.
Your blog must have a "Contact us" page
That's it.
• Complete the things mentioned above and follow the steps given below
Get a 100% unique video and upload it your youtube ( any video will work )
Publish the video
Now click on "Channel" and then click on "monetization"
You will see some guidelines, click on "How will I be paid" and then click on "Associate an AdSense account"
Click on "next" and you will be redirected to Adsense registration page
Click on "Create or use another account" now either click on "sign in" and log in to your account
Click on "continue" and now fill in the correct details and click on "Submit my application"
That's it. Now you just have to wait for 24 hrs in order to get Approval mail from Adsense.
Here is the video for the above-mentioned steps
Above steps are to get approval for Adsense youtube, in order to use the same account for your blog, follow the steps
As you got approval mail from Adsense, just log in to your AdSense account
Click on "My ads" and get the code of whatever size you want and then place the code to your blog by adding a text widget.
Now click on the "Gear icon" given on the right-hand side just below your Gmail ID and click on "Settings"
On the left-hand side, you will see "My sites", click on it and then click on the "+" sign on the right.
Enter the domain name and click on "add site".
And it's done.
Now just wait for 10 to 15 days in order to get the approval mail from Adsense.
Here is the video that you can check out
This is a sure shot process that will help you get the Adsense approved quickly in just some days. Even I followed the same method and got mine approved.