Time to learn what people have to say about Green Greeks by reading GreenGreeks Review – cheap, reliable and blazingly fast! This California based web hosting company deserves your attention.
You might not be aware of that GreenGeeks is an eco-friendly web hosting company which is located in Los-Angeles California. It was founded in the year 2008 by Trey Grander and they are successfully hosting 300,000+ blogs worldwide. They have got data centers located on most of the prime locations as U.S, Canada and soon they are going to launch it in Amsterdam.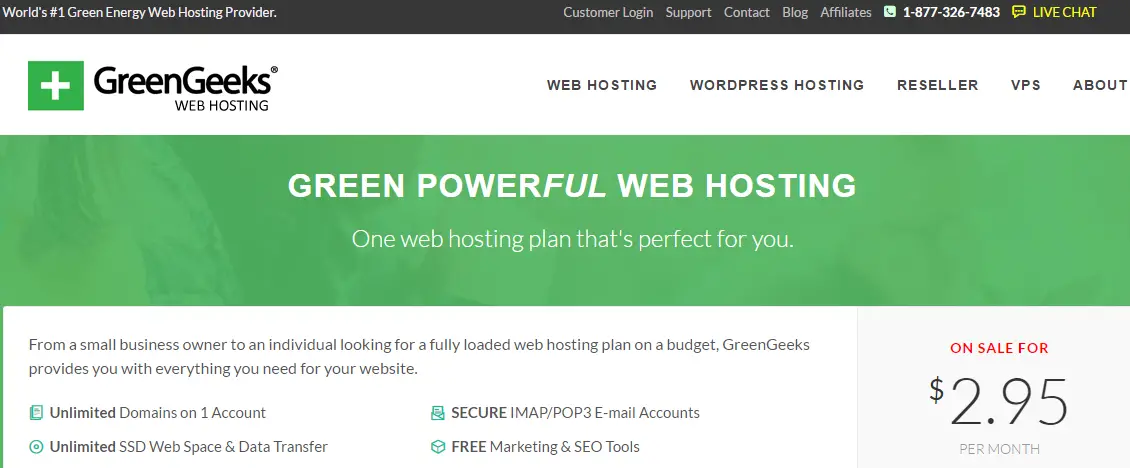 Since it's a growing web hosting company, I thought to try it and thus I have launched one of my test blog on Greengeeks and thus after experimenting for 4+ months, I am sharing a complete GreenGeeks review.
In order to test, I have launched a test blog and I have followed the same process as given here. I have tested the hosting for speed, uptime, and support which are considered as the most important factors of a web hosting.
Pros to host with GreenGeeks
1 – 99% Uptime Guarantee
When you browse GreenGeeks blog you will see that that are claiming a uptime of 99.99% and I feel that it's the best uptime offered.
Why is Uptime important?
Uptime is very important for your business especially when you have most of your business from your blog. If your blog remains down, you will surely loose a lot of traffic and people will start ignoring your blog because they will come to know that your blog remains down most of the time.
I have hosted my test blog with GreenGeeks on January and I have got the following results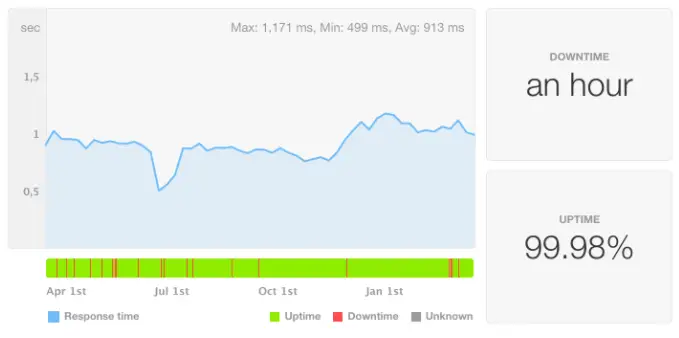 January average uptime – 99.99%
February average uptime – 99.97%
March average uptime – 99.98%
April average uptime – 99.96%
So, accordingly, I have got an average uptime of around 99.98% which was extremely awesome.
2 – Support
When it comes to GreenGeeks I found they are prompt and they have got a good team of experts who understand your issues and resolve them right away.
Why you need a good team of support?
When you host a blog, you always try to experiment some or the other things like improving performance, looks etc and you never know when things go wrong. So, a good support is very important so that they can resolve the issues right away.
Once I was trying to tweak the performance of the blog and suddenly something went wrong that even I wasn't able to open the WordPress dashboard. I quickly went to the chat support system and there was a waiting time of around 3 minutes. I explained them the matter and within 2 minutes, they fixed the issue and my blog is live again.
So, I would say that they have the best support available.
3 – Performance
Let me tell you that they are reliable web hosting provider as well as superb in terms of speed. I have kept the test blog as simple I can and I have used Genesis framework theme on it. I have also submitted some posts and images so that I can test the performance for a real blog and results are given below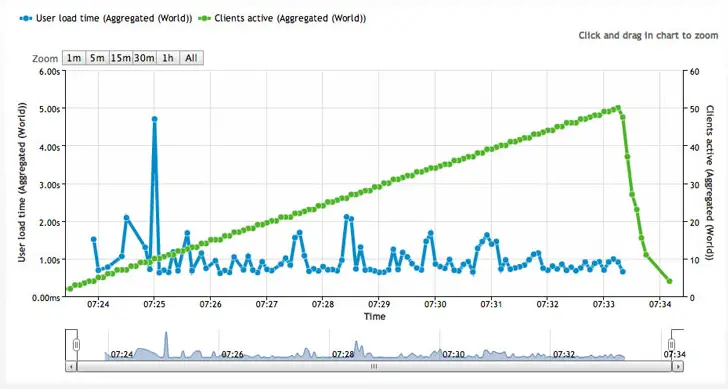 January average speed – 923ms
February average speed – 927ms
March average speed – 863ms
April average speed – 904ms
So, as you can see I have got an average of around 904.25ms of loading time. While using Fastcomet hosting I was getting similar results to GreenGeeks. Thus, I would say that both Fastcomet hosting and GreenGeeks are reliable and performance oriented.
Importance of good performance
Recently, Google said that they will give priority to fast loading website, which means a website that loads quickly will be rewarded as good ranking on SERP.
4 – Time to First Byte
My test blog has got a Time to First yBte of around 0.326ms which is really superb for a shared hosting.
Importance of time to First Byte
One thing you might never have noticed, that all the big blogs have the lowest Time to First byte. Some are even under 0.100ms. I have read in a post published on MOZ that Time to First Byte can be the ranking factor.
so i hope you understood the importance of Time to First Byte.
5  – Features you get with GreenGeeks
Since I have already explained about uptime, speed, and support, and so I won't talk about those again.
Pricing

When it comes to pricing they can be considered as the cheapest. Their shared hosting plan starts from $2.95 per month. The only condition here is that you will have to register for at least 3 years so that to get the pricing at $2.95 per month. Otherwise, you will be charged as $9.95 per month.
Free Domain
This is the best feature they are offering. If you purchase a domain and hosting from them you will get the free domain of your choice and it will remain free until you are using their hosting services. If you have a blog live with other host and you want to transfer it to GreenGeeks, you can ask GreenGeeks support to do that. They will do it for free.
30-day No-Question money back guarantee
When you host your blog with GreenGeeks, and if you don't like any of their services or you just want your money back, you can ask them to do so within 30 days. They will happily refund your money and they won't even ask you any question.
Free Nightly Backups
You never know when things go wrong and thus to keep your blog secure and safe, they have a daily backup policy. So, even if anything goes wrong to your blog when you are sleeping. You can get your blog stored back within minutes.
SSD drives
You might not be aware but SSD drives are 20 times faster than normal drives. Which means you won't face the issue of a bottleneck. They offer RAID-10 SSD storage which is extremely fast. You will always have good performing blog.
Unlimited storage, domains, Emails and Bandwidth
Though these are the common feature and provided my most of the web hosting providers, but at this price, it's a bit difficult to get.
Cons to host with GreenGeeks
Frankly speaking, I never noticed any kind of cons with them. They are really superb in terms of reliability, support, and performance at a very cheap price.
Conclusion
Finally, after using their service everything was good. So, if you are a beginner and you want to get a blog live, you can use GreenGeeks. It's fuzz free, reliable, easy to configure and provides good speed. If you have a website for your company or portfolio, then this would the best hosting I would say.
I hope that this GreenGeeks review has helped you a lot.
Thanks and don't forget to share. Best of Luck