There are ways in which you can make short URLs to make them more appealing; learn how to make customized short URL that is attractive to make them remember you.
Short URL's are in trend nowadays, almost everyone seems to be using them. You must have seen big brands like TechCrunch, Twitter, wpbeginner, newYorktimes etc using short URL. Do you know why people are running behind them? The answer is, They are easy to remember and this helps your audience in building your brand recognition, I have also seen that short URL's increase likes and followers on social media. Here in this article, I am explaining how you can make your own customized short URL.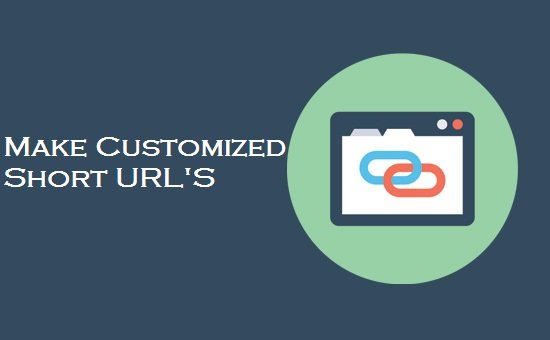 But before that, let me explain why it is important to have a customized short URL
You must have read some of the big brands that are using customized short URL above. Basically, this type of customized short URL are known as domain hacks and these are created by cleverly combining the name of a brand along with a top-level domain so that they are easily recognizable.
Since today, most of the websites domain names have .com as their primary domains. No doubt that these are the best TLD ever and would be. When using a customized short URL, you are helping people to recognize your brand easily. Short URL's also helped your audience in sharing the content over social media and thus you get benefited from it.
The most important thing about short URL is that you can easily track each and every detail of these. So, let's see how we can make customized short URL.
Step 1: – Get a Short Domain Name
Since at the time of launching the blog, we are very tight on budget and thus we focus only on the primary domain and thus we never opt for any short URL. This clearly means that the first step is to get your short domain is buying a new domain which is short and have similar character as our primary domain. You can use Domainr service to search for the domain.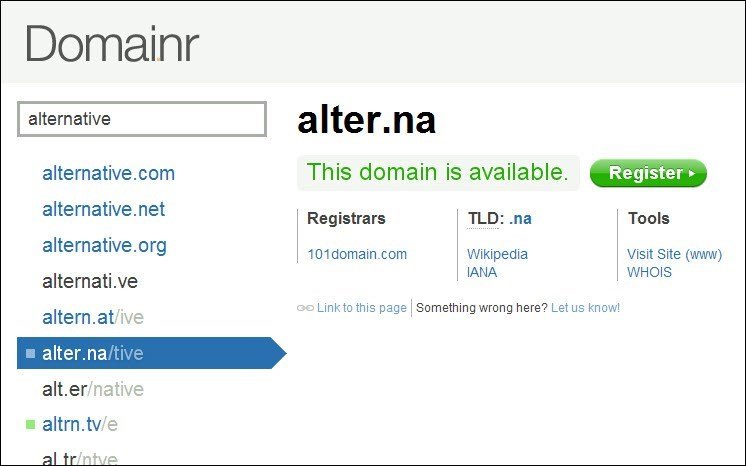 While searching for short domains, you may find that some of the domain is not available, no need to worry about, just try different combinations and you will surely find something better. As you get your domain and you are satisfied with it, you can go to GoDaddy or any other registrar and get your domain registered.
Step 2:- Setup the short domain on Bitly
Since bitly is one of the most famous Urls shortening tool, you can go for it. This tool will also help you in tracking your domains. Another reason is that you can easily track Bitly URL on your WordPress dashboard itself. Given below are the steps
Go to Bitly and register for a new account
go to "Account Settings"
Now, you have to go to Advanced Settings > Branded Short Domains
Add your custom short domain
Here you will also see the instructions to setup your DNS A records.
Now before finalizing, you will have to setup you DNS records
Step 3:- DNS record Setup

For this, you will have to go to login to your original domain registrar account and look for DNS records (if you are not using any subdomain) but if you are using a subdomain, you will have to setup a CNAME record as well.
After this, you can return back to your Bitly account and click on "Verify" button given. If you get any error, just wait for a couple of hours and try again. You can even contact support for this.
Step 4:- Configuring Short URL on WordPress
The reason why we have used Bitly is because we can track it on our WordPress dashboard itself. Follow the steps given below in order to configure customized short URL on WordPress
Login to your WordPress and install the plugin named WP Bitly and activate it
Go to settings > Writing page and scroll down to find "WP Bitly Options"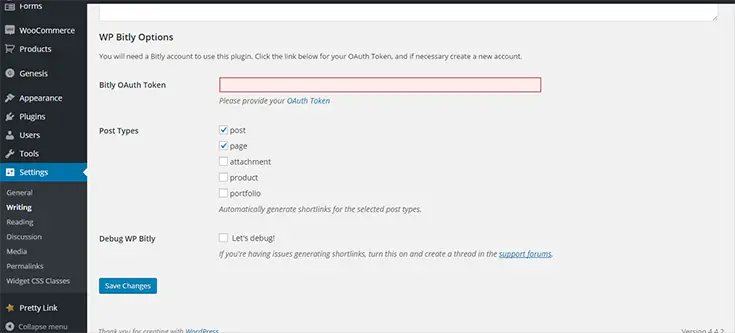 Now we will have to configure the Bitly settings. So go to your Bitly account and get your "Access Token" which you can get under settings > Advanced Settings and then you will find a link for OAuth apps. This link will redirect you to a new page where you will have to provide the password for Bitly account, enter it and click on "Generate button".
Copy and paste that "Access Token" to your WordPress Bitly settings. Click on save and you are done.
You can now check your links that have been turned to short and you can easily keep a track on your dashboard itself.
On the dashboard you can see much information, you can even check the number of times your customized short URL have been clicked.
Hope you like the tutorial, don't forget to share.